La película de Pedro Almodóvar 'Los abrazos rotos' y la actriz Penélope Cruz han conseguido sendas candidaturas a los Globos de Oro -considerados la antesala de los Oscar-, cuya ceremonia de entrega se celebrará el 17 de enero de 2010 en Los Ángeles.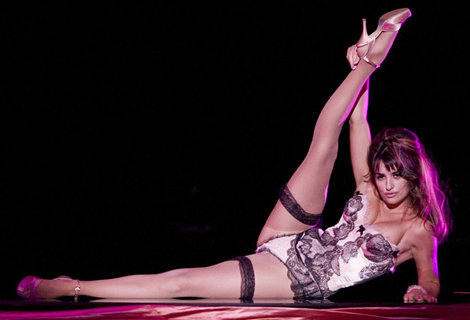 Penélope Cruz ha conseguido optar al premio en la categoría de mejor actriz de reparto, por su interpretación en el musical 'Nine', de Rob Marshall, que ha logrado cinco nominaciones, sólo superado por las seis de 'Up in the air', protagonizada por George Clooney sobre un hombre cuyo empleo es despedir a otros de sus puestos de trabajo.
Por su parte, 'Los abrazos rotos' competirá en la categoría de mejor película extranjera, según ha anunciado la Asociación de la Prensa Extranjera de Hollywood. Se trata de la quinta nominación para una película del cineasta manchego. Con 'Todo sobre mi madre' logró el premio como mejor película extranjera y 'Hable con ella' le valió al director el galardón al mejor guión original.
Candidatas a mejor película
La aventura de ciencia ficción 'Avatar', así como la fantasía del director Quentin Tarantino ambientada en la Segunda Guerra Mundial, 'Malditos Bastardos', recibieron cuatro nominaciones, incluyendo la de mejor película. Por este premio también competirán el 'filme' sobre la guerra de Irak 'The Hurt Locker' y el drama urbano 'Precious'.
Como mejores directores han sido nominados James Cameron ('Avatar'), Quentin Tarantino ('Malditos bastardos'), Clint Eastwood ('Invictus'), Jason Reitman ('Up in the Air') y Kathryn Bigelow ('The Hurt Locker').
James Cameron ya consiguió un Globo de Oro por la dirección de 'Titanic', en 1998, mientras que Tarantino no logró el galardón al que fue nominado por 'Pulp Fiction', en 1995. Eastwood ha sido candidato a mejor director en seis ocasiones, y se llevó el galardón en tres, por 'Bird' (1989), 'Sin perdón' (1993) y 'Million Dollar Baby' (2005).
En materia de interpretación, Jeff Bridges ('Crazy Heart'), George Clooney ('Up in the Air'), Colin Firth ('A Single Man'), Morgan Freeman ('Invictus') y Tobey Maguire ('Brothers') son candidatos en la categoría de mejor actor de drama.
Se trata de la cuarta candidatura para Bridges, que ya obtuvo nominaciones por 'Starman' (1984), 'El rey pescador' (1991) y 'Candidata al poder' (2000). Para Clooney es su segunda nominación, tras la lograda por 'Michael Clayton' (2007). Freeman, todo un veterano en estas lides, suma su quinta candidatura. Anteriormente las consiguió por 'Street Smart' (1987), 'The Shawshank Redemption' (1994) y 'Million Dollar Baby' (2004).
En el campo femenino, las intérpretes Emily Blunt ('The Young Victoria'), Sandra Bullock ('The Blind Side'), Helen Mirren (que suma su décima candidatura por 'The Last Station'), Carey Mulligan ('An Education') y Gabourey 'Gabby' Sidibe ('Precious') fueron elegidas candidatas en la categoría de mejor actriz de drama.